Machining of large and difficult to cut materials
Machining of large and difficult to cut materials
We produce important materials called "targets", which are essential in opening circuits of components for IT and liquid crystal devices. Components in circuitry and wiring of ultra-precision instruments are essential yet also very difficult to machine. We produce these materials by gradually cutting and grinding through a multi-step process.

In addition, with the increase in liquid crystal quality, the sputtering method of thin film liquid crystal formation has been popularized and sputtering targets are becoming increasingly important.
The increase in size of liquid crystal screens has meant an increase in the size of targets, and there is demand for improved precision. Kawasaki Rolling Co., Ltd. has equipment with facilities that are capable of machining large products up to 2000x3000mm in size, and carries out metalworking to meet clients' standards.
Our identity and technology is based, not on producing large quantities of identical products to the same standard, but rather on producing precisely manufactured items one by one.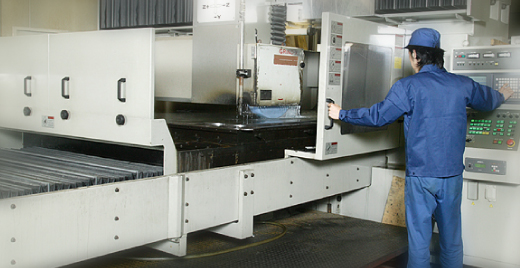 Examples of products
Machining achievements
Chromium
Molybdenum 
Molybdenum tungsten
Molybdenum tantalum
Tungsten
Copper           All other kinds of difficult-to-machine materials